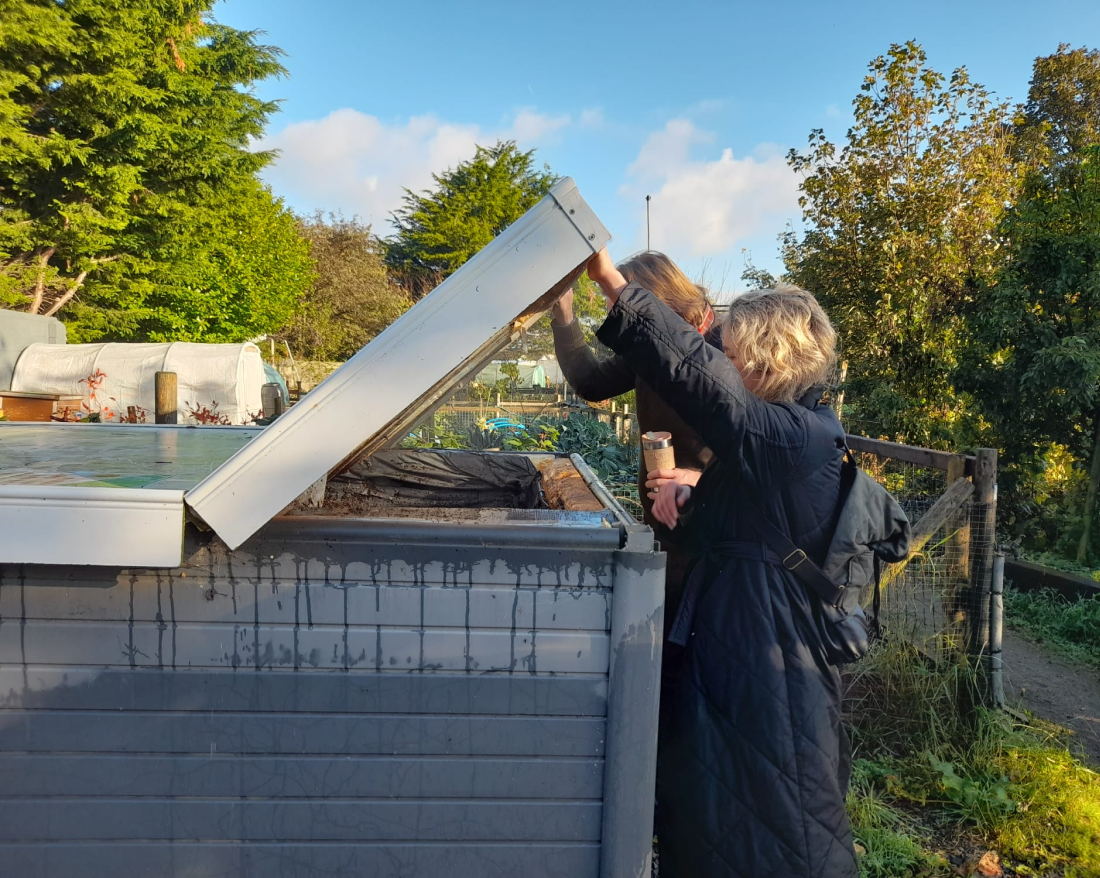 The Kingfisher Project – Community Garden in Kimmage
On Wednesday, 25th October, BioBeo partners Dr Tom Curran of UCD, Clare Patten of An Taisce Green Schools and James Lowry from Maynooth University were given a fascinating tour of the Kingfisher Project's Community Garden in Kimmage, Co Dublin. 
Dr Michelle Darmody gave us a most generous tour for the morning and introduced us to many of the pioneering local gardener-members who have an immense vision for their project. Their well on the way aim is to become a 'pixel' garden hub for 200 neighbouring family back-gardens and the 5 local school gardens, supplying local gardens with their wealth of seed, plants and gardening wisdom. 
Personally, the 'An Cruidín'– Kingfisher Garden Project left me speechless. From the moment you walk in the secure iron gates, interwoven traditionally with willow, the visitor is met with teeming, verdant and biodiversity-rich garden life at every turn. A garden still full of life and fruitful well into Autumn. This is one of the most impressive and atmospheric community garden sites I have ever seen in Ireland. 
We met many member- gardeners busy at work on their own allotments or helping to tend many of the innovative community features such as wildlife-rich pond, the handsome outdoor classroom spaces, the potting sheds and polytunnels, the hot composter unit, the four bay compost system, the large solar panel power system, solar water pump for the River Poddle flowing calmly past and providing all the garden's water needs, bee-hives and then the space-age looking human composting toilet. It is an incredibly self-sustaining example of a bioeconomy community garden. And that's before you explore the fine trees, native plants and flowers. 
"If you have ever seen a kingfisher in flight, you will know how well named this community garden really is. Flashes of brilliance everywhere."